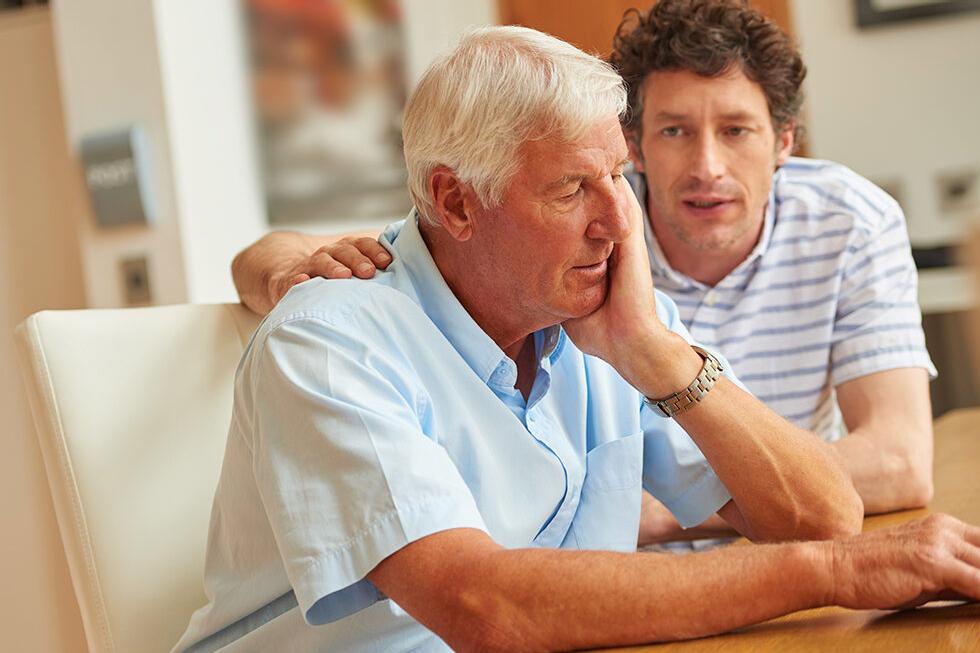 What if Mom or Dad Don't Want to Move to Senior Living?
---
Change is challenging… especially as you age. Many of our parents have been in their own home for years, and the idea of this change, in particular, can cause anxiety and an abrupt objection. However, the best time to have the conversation with aging parents is before a crisis happens so that these changes can be made on their terms as much as possible.
The following information offers suggestions for making the conversation easier.
Where do you start?
One of the biggest reasons the idea of moving to a senior living environment can be scary is that it is a huge change. Break down the thought process, and you'll be sure to see better results. Start with a simple question like, "What are your biggest daily struggles?" Ask them how you can help. Focus on the little things that make home life less than ideal.
Don't forget who's boss is. Few people respond well when someone starts a tough conversation with commands like, "You need to…" or "You should…" Remember that they still see themselves as your parent. You are their child, no matter how old you are.
If the conversation is going well…great! Consider moving to the next steps. But, if you are starting the conversation early enough, you can simply 'plant the seed' by discussing the needs and shortcomings of home life. Then, after your parent has had time to think about it and even experience these shortcomings more, re-approach the conversation. Unless there is an immediate need or you are concerned that your parent is not safe, the slower approach can yield more success.
Take it to the Next Step - What's the Cost?
So your parents have warmed to the idea. Now it's time to talk about their home in the context of real estate. Ask if they've thought about selling their home and using the equity to move into a place that would be more comfortable and have lower or no maintenance.
If they're open to considering a sale, there are lots of great resources where you can help them understand what their home may be worth. Consider looking at home estimates on websites like Zillow, Trulia, or Realtor.com.
This is also a great opportunity to do a cost comparison of life at home versus life at a senior living community. The difference may surprise you. With your parents' help, list their home-related expenses like utilities, property taxes, insurance, maintenance, and repairs. Comparing this list to the cost of senior living, which is typically inclusive of all these things, it's hard to argue with the data.
Senior living is a smart choice! If you can show your parents that selling their home and moving into a full-service senior living community will ultimately save them money, that may help ease their anxieties.
Sometimes, this basic cost comparison isn't enough. You may also need to investigate the expense of solving some of the challenges within your parent's home to illustrate your willingness to consider their home as an option and show them how costly these 'fixes' can be. Consider researching things like
Non-skid flooring and removing slippery rugs
Installing grab bars in bathrooms can hurt re-sale!
Medical alert and security alarms monthly subscriptions can add up, and fees associated with their help can escalate quickly!
Outside ramps, if stairs become difficult to navigate, can also negatively affect re-sale.
Handrails along stairs, hallways
Motion-activated, bright lighting in hallways, closets, and stairwells
Wider doorways to accommodate wheelchairs and walkers
Stair climbers
Walk-in bathtub/non-slip shower
Security cameras
Get a Professional's Input
Perhaps you don't have the luxury of an early conversation, and your parents are in danger of falling or you have serious concerns about their abilities to care for themselves. It may be time to enlist the help of third-party professionals.
If costs are still an objection, an accountant or financial advisor can help them understand the costs and expenses associated with staying where they are versus selling their home and using the equity to enjoy the rest of their lives in a senior living community. Sometimes hearing this from someone that isn't their child is all it takes.
You care for your parents, and you likely already know what professionals they use for their healthcare. Ask their doctor to talk to your parents about their long-term needs and what to expect if they have medical conditions that may come with mobility or memory issues. Chances are they have trusted their doctor for quite some time, so they may place more trust in the doctor's assessment of their need for change than yours.
Don't forget about asking a friend for assistance. You may have friends whose parents have sold their homes and moved to senior living communities, so ask how it went and what they did. Invite them to share their stories. And don't forget your parents' own friends who may already transition to senior living. Sometimes hearing someone else's story about making such a big change so late in life can be comforting.
Overcome Fears by Scheduling a Tour
Sometimes, the best way to overcome objections is to see life in a community for yourself. Visiting a community will show them what a day is really like. They may even encounter an old friend who's living there now. Showing them the chance of renewed friendships, and even the ability to make new ones can go a long way in helping the decision process.
Be prepared for each tour with a list of questions and a checklist of features to evaluate. Talk to the community staff about costs and the living fees. Your parents may be pleasantly surprised at all the amenities and perks that come with senior living.
If All Else Fails, Have an Aging Plan in Place
So if you've exhausted your efforts to convince them to move and your parents aren't in dire need or are still objecting to the change, then work with them to make an aging plan so that when and if something does happen, they need care, you've got a plan in place.
Get a medical alert system. Look for a system that has a fall alert sensor. New technologies you may already have in your home can also help your parents. Explore options with smart speakers from Amazon Echo and Google Home. These devices have apps that can help seniors with things like medication reminders, daily routines, turning lights on and off, and calling friends and family.
List all medications. Write down all prescribed and over-the-counter medications, including dosages, prescribing doctor, and frequency, and put the list in a place where you and your parents can easily access it. Make sure you have the list backed up in case it gets misplaced, or you need it quickly in an emergency.
Note allergies. Along with the list of medications, including any food, medication, or other allergies, such as latex or adhesives.
Write and display a community DNR. What's a community DNR? If your parents have a do-not-resuscitate order, does it apply to medical emergencies that happen in the community, outside a hospital, or healthcare setting? If not, make sure it does.
Plan to check in on your parents more regularly. Consider planning a daily call with them. And when you speak with them, pay attention to how they speak. Have they repeated the same story over and over? Can they follow their train of thought? Are they slurring? Changes like these can indicate health problems and should be addressed immediately.