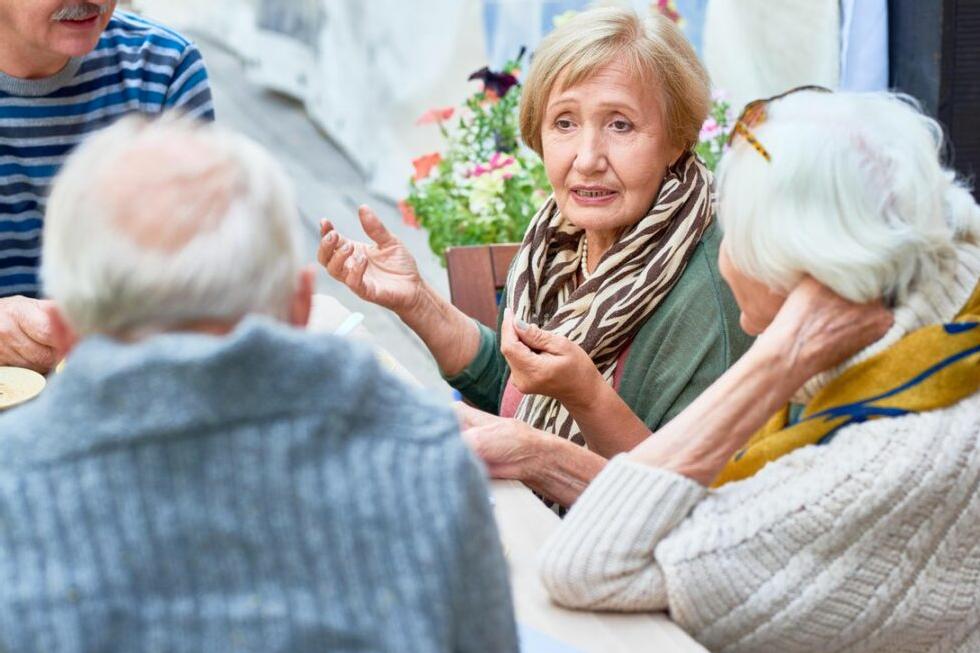 Sibling Rivalry: Why Can't We Agree on Our Elderly Parents' Care Needs?
---
"I want to scream…my sister just doesn't get it! She flies in from Wyoming twice a year to check on our mom and wants to change just about everything we have. She always acts and talks like she knows more than me, even though I am the one who cares for mom every day. It's all just VERY frustrating!!"
If the above scenario sounds familiar to you, you're not alone. According to recent research, 43% of U.S. families have one sibling that has the responsibility for providing most or all the care for mom or Dad. Some sibling problems need only minor guidance and mediation to get everyone on the same page. Others are more challenging and greatly interfere with providing the best care for a parent.
The stress of caring for parents can typically go in two different directions. One avenue can tear a family apart or, in a best-case situation, bring everyone closer. Unfortunately, if things go off the rails and a family doesn't get some form of outside help, it is often a major mess. The good news is that there are some practical steps and tools that can ease the stress on families that will, in turn, decrease sibling conflict and problems.
Sibling Roles Resurface During Times of Stress
During times of immense stress and crisis, such as a parent's hospitalization, it is not uncommon for adult siblings to fall back into the roles or patterns that existed during their childhoods. These roles can be related to other siblings, their parents, or the family as a whole. When all is going smoothly, roles may not interfere with communication and family functioning, but if a parent is ill or facing major change and decisions, sibling roles and old rivalries can flare up and interfere substantially with providing ideal care for a parent.
Some of the most common roles siblings assume in times of stress are:
The Boss - A sibling who always knows what's best. It is common for this person to discredit all other family members' experiences and knowledge.
The Avoider - A sibling that avoids involvement at all costs for many reasons. The Avoider often says something like: "I just can't bear to see mom or dad in this condition." The Avoider likes to defer responsibility to others on a regular basis.
The Pauper - A sibling who is unable to visit the senior or assist in any way because of financial reasons. Often the Pauper avoids any type of assistance to an aging parent under the umbrella again of money concerns (can't miss work, can't afford a plane ticket, etc.) Obviously, this can be legitimate, but we are talking about siblings who are chronically lacking funds and use this as an excuse not to help or participate in family matters ever!
The Whiner - A sibling who is unable to focus on parent's needs or be a part of the care team because their own life is so hard, they are too busy or are ill themselves. This person often whines or complains so much during get-togethers or planning sessions that other siblings wish he/she hadn't been a part of it all. Perhaps this is actually part of the Whiner's plan? Again, some complaints may be legitimate, but we are addressing chronic, problematic behavior here.
The Arguer - Often, for no apparent reason, everything needs to be argued about with this sibling. It can be exhausting to involve the Arguer in any decision-making process. Often the Boss has a secondary role as the Arguer.
The Peacemaker - This sibling often gets overlooked and can have a hard time feeling "heard." Often soft-spoken, the Peacemaker spends most of their time gluing all the family relationships back together after disagreements. This individual often sacrifices their own needs and doesn't share their feelings or opinions for fear of starting an argument or being criticized.
These are just a few of the most common roles that can interfere with a family's cohesiveness. On the flip side, it is equally important for siblings to be open-minded about working together as adults. Sometimes grown siblings are not the same people they were in their youths and may have preconceived ideas of how siblings are going to act in certain situations. Grown siblings can be pleasantly surprised to reconnect with a brother or sister to find they have grown out of an annoying role or behavior.
Emotions also play a huge part in a family's ability to come together and help aging parents. During times of uncertainty and stress, adult children of an aging parent may experience the following emotions in a magnified way:
Anger, hostility
Fear
Sadness & grief
Denial
Guilt
Jealousy & resentment
When we realize a parent is getting older and we have begun the shift from care receiver to care provider, all these emotions may be experienced. Problems may begin when emotions are out of control, are used to manipulate or intimidate others, or are generally interfering with caring for our parents or communicating with siblings about sharing the workload.
Common Family Scenarios
Instead of automatically labeling our siblings by their behavior in the past, it is helpful to remember that family roles and positions may not always be changeable, equal, or fair. Even with the best intentions in mind, families may have a hard time overcoming role patterns. Each family also has its own history, language, rules, expectations, definitions of what's acceptable to talk about, and ways of communicating.
In addition to family members' roles, certain factors or situations can make it challenging for siblings to be on board regarding their parent's care.
Perhaps some of the following examples may sound familiar.
The adult child living closest to the parent assumes the lead role in assisting with their parent(s) care and decision-making. This may be out of necessity, convenience, or parental expectation. The child who has the responsibility may not want to own it at all, but the other siblings think it makes sense due to the physical proximity of the child to the parents.
The oldest adult child assumes all the responsibility for caring for the parent(s). Similar to the situation above, this may not be the child's desire, and his or her role, intentions, and wishes may be misunderstood by fellow siblings. Parents may also assign a sibling who is not the eldest with this "power role," and again, individual interpretations along with long-standing emotions such as fear of favoritism, jealousy, or resentment may increase and interfere with communication within the family.
The daughters or daughters-in-law in the family get "assigned" by fellow siblings to provide hands-on care, including domestic assistance (shopping, escorting to appointments, housework, etc.). This may be culturally expected or a matter of convenience.
Siblings assume that other siblings have more time to care for a parent and therefore are elected or pressured to do so.
A financially challenged sibling may move in with a parent(s) to "help" them and alleviate their own financial burden. While this often is a great solution to family caregiving needs, the sibling who moves in may not be equipped or prepared for the responsibilities they now must handle.
The extended family gets overly involved in a senior's care, often stepping in when the sons or daughters are not local or regularly involved. It can be beautiful when family members, including extended members such as cousins, aunts, and uncles, come together to form a support system for a senior. Other times it can cause a tremendous amount of resentment in the sons and daughters of a senior if they perceive that the extended family is "taking over," or more commonly, fear that extended family is "after a senior's money."
Inheritance issues. Money does strange things to even the most loving of families. Siblings who feel parents are unequally distributing assets after they pass away may demonstrate their frustration and hurt feelings in a passive-aggressive manner by often avoiding direct conversation about their feelings and instead creating obstacles and interference regarding family decisions. Any perception or feelings that another sibling is getting more than their share of inheritance may interfere with parent-focused problem-solving and communication goals. Inheritance issues can be extremely emotional and can tear a family apart. Inheritance decisions may not always be fair in the eyes of all. The bottom line is that adult children need to come to grips with the understanding that their parents are the ones distributing the inheritance, not their brothers or sisters. Clear and honest communication is key not to let money interfere with a senior receiving the proper care.
While many of these situations may affect a family's ability to come together and work as a team, it is important to keep the main goals of unification and open, with nonjudgmental communication in mind at all times. Any communication breakdowns can make a tough or stressful situation worse. So how does a family shift from "battleground communication" to a more team approach? Is it even possible? The short answer is, "yes!" Countless families have overcome role and pattern problems by making a few changes in how they work with each other.
Peace, Unity, and Strategic Focus vs. "Herding Cats" Mentality
It is important when having sibling conflicts or clashes about caring for parents that families stay focused on three primary goals:
Goal 1 - To keep parents safe, healthy, and as independent as possible while striving to maintain their dignity at all times.
Goal 2 - To come together as a team utilizing each person's strengths and abilities so they can implement practical solutions.
Goal 3 - To be a united force when partnered with parents, not letting the stress of the situation and misunderstandings that occur from separating the family, but instead focus on bringing everyone closer together with shared goals.
Of course, these goals are ideal. In reality, it can feel like you are herding cats getting all your family on the same page! For families that are not only struggling with sibling participation and conflict but also trying to determine the best senior care options for their parents, the following is a list of essentials that can make things easier.
First and foremost, hold a family meeting. (See next section for help on this tactic).
Get outside help. When families are locking horns with each other and cannot come to a productive decision or make a plan regarding their parents' care, involving a neutral party can be very beneficial. A social worker, geriatric care manager, or mediator can make a huge difference, especially for family meetings.
Get finances and legal papers/directives in order. It is essential that seniors have a power of attorney for finances as well as one for health that designates who will help make decisions should they not be able to make them for themselves. Advance directives, wills, trusts, and funeral plans should all be discussed ahead of need so that everyone knows the senior's wishes and is on the same page. This discussion should also include practical discussions over finances and what parents will be able to afford for care in the future. Having no surprises regarding money and legalities will help things run smoother when parents become more dependent on others.
Make a family plan for care BEFORE your parents need help. Getting everyone to understand what their expected roles will be now, rather than when a crisis hits, will help things go much smoother later on when your senior's needs intensify. Who will be able and willing to provide day-to-day help and who will help manage finances are the biggest factors to consider. (Your senior's plan can be as individualized and specific as your family wants and needs.)
When creating a plan of care for parents, think outside the box. Decide what is worth financially outsourcing, e.g., cleaning, shopping, errands, daycare, or home care. Even if certain siblings plan on providing the majority of the care for parents themselves, budget or come together financially and get some help occasionally to relieve the family caregiver. This will decrease the chances for burnout and resentment, all of which equal better care for your mom or dad. When coming up with a support team for your parents, make sure to include family friends, extended family members, helpful neighbors, volunteers, and other sources. The bigger the support system, the less strain there will be on adult children, and burnout chances will be greatly diminished.
Consider hiring a senior move manager when assisting a parent with a move. Certified move managers are angels with packing tape and are invaluable parts of a care team. They can organize items, help parents "right size" (a more positive term and often more acceptable than "downsize"), coordinate with movers, and often can make a move in one day. Moving is incredibly hard for seniors, and a move manager is money well spent. Please note that a move to the senior living during the Covid-19 pandemic can alter some move-in plans. See https://theclassichg.com/moving-to-the-classic-during-covid-19/.
Look into options for family caregivers to get financial reimbursement for the caregiving assistance provided to parents. Long-Term Care insurance plans, certain VA benefits, and other options may be available to lessen the financial blow of having to stop or cut down work to assist a parent.
Read up on family caregiver preparedness and join a family caregiver support group. Many of us are informally caring for our parents without knowing it. It can be gradual…doing their laundry and yard work, adding their shopping to yours, pre-dispensing their meds into daily/weekly planners, and going with them to medical visits. Before you know it, you're a family caregiver. Get the support you need before the really heavy-duty care comes your way. You'll be all the stronger for it.
Should We Hold a Family Meeting?
Consider this staggering statistic: 46% of family caregivers in the U.S. who said their relationships with their siblings had deteriorated blame unwillingness on the part of siblings to help care for their parents.
One of the best ways to avoid hurt feelings, blame, and unequal distribution of responsibilities is to talk it out. While not always embraced, others will often agree to a family meeting or discussion if someone else organizes it. Holding a family meeting may feel strangely formal at first, but it does get easier with practice. It is essential to become and remain strong and organized support for your parent(s).
One really good tool available to check into before you call a meeting to order is the "50/50 Rule." https://www.homeinstead.com/132/documents/505020booklet1.pdf. This free resource, provided by Home Instead Senior Care, discusses a myriad of common family conflicts and scenarios and how to handle them. The 50/50 Rule refers to the average age (50) of siblings when they need to start helping their parents at some level, as well as the amount of assistance to parents that siblings need to divvy up between themselves (50/50 ideally). Assuming you have read some resources like the 50/50 Rule and are ready to set up a family meeting, where do you start? Listed below is a short list of guidelines that may be of assistance.
Send out a proposed meeting agenda and ask for feedback on what everyone feels needs to be talked about. This may feel formal for a family gathering, but having an agenda in place will help keep the meeting from getting off-topic.
Pick a time and place for the meeting that works for all needed parties, and remember that siblings who are far away or can't leave home for various reasons (particularly during the COVID-19 pandemic) can join through Skype, webcam, or conference call. Attempt to invite all siblings, especially for the initial meeting.
Involve your parents or the senior involved. If you decide to meet first and then come together with your parent afterward with ideas, please know that this could leave your parents feeling powerless and resentful. Use extreme caution when excluding a parent from any planning meetings.
Start the meeting by setting a time limit and assigning someone to take notes. The scribe ideally should send an email summary after the meeting to all involved in the care, not only as a reminder as to what was talked about but to make sure no vital points were missed. It's suggested that the first meeting be limited to an hour or less to keep it short and to the point. Keep in mind that this may be very emotional and possibly stressful for the senior involved and shorter meetings, especially at first, are best.
Have any pertinent information on hand for the meeting? Examples might be the latest reports from physicians, brochures, price lists from assisted living communities, etc.
As simple as it sounds, it makes sure EVERYONE gets time to be heard. Parents and all family members involved in care and decisions should be able to safely and without criticism, share their biggest fears in relation to parent's care (i.e., "I'm scared to death dad will fall, and no one will be around to hear him scream for help!" Everyone also should be able to share their ideal outcomes. This will give everyone, including your parents, a picture of what each family member worries about the most and offers a chance to hear others' suggestions, some that may be different than your own.
Be kind to each other. You are all attending the meeting for the same reason you love your parent/s, and you want what's best for them. The goal is to stay calm and focus on your parents' needs.
Define what help is needed and determine in order of priority what to start with. Not all of your parent's issues need to be solved at the first meeting. Start with the most important topics such as safety, basic health needs, and getting legal items such as the power of attorney forms in order.
Assign duties to siblings based on their strengths, expertise, and interests if at all possible. If one sibling is a CPA and lives two hours away, it makes logical sense that he or she assists with financial issues rather than with hands-on care every day. This is ideal, and we must also not assume, as mentioned earlier, that the closest sibling is the one that should be providing all the care. Working with everyone's strengths and abilities makes for a strong team, a team where one person isn't responsible for ALL the aspects of care or isn't trying to manage things they have no interest or skills in.
Be direct when asking siblings for their help. Do not assume that others know what needs to be done and that you "shouldn't have to ask." Assuming does not work in marriages, raising children, or caring for aging parents.
Consider using some communication and family caregiver apps. This allows all siblings access to the latest information and provides a platform, often easier than email and text threads, on which to communicate and organize a loved one's care.
Be open to the idea that even after a family meeting or two, the sibling roles may not be evenly distributed or entirely "fair."
Have a mediator or care manager present if you know that historically family meetings are non-productive and end in arguments. This may only be needed for the first or second meetings. After that, you should have an idea of how to get the meeting going and running smoothly on your own.