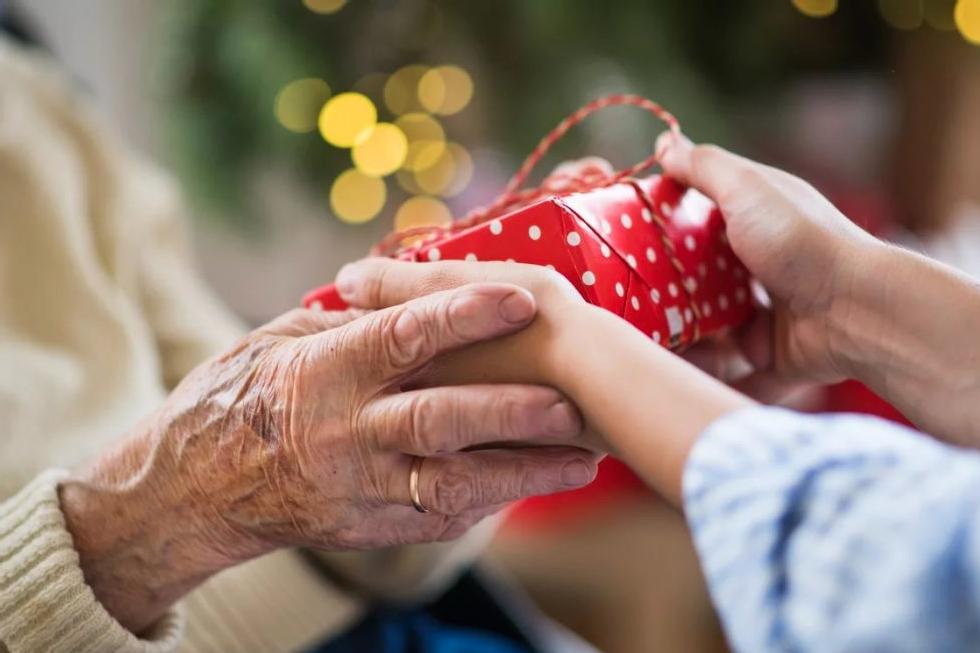 Holiday Gifts for Loved Ones in Senior Living
---
Finding the most useful Christmas gifts for your elderly loved ones to enjoy can be challenging. Senior loved ones have received a lifetime of gifts, but over the years, his or her needs most likely have changed. Older adults, especially those in assisted living settings - might be dealing with physical health issues or memory loss and have needs for everyday items that wouldn't normally come to mind.
Here are some suggestions...
Activity Books for Visiting Grandchildren
Coloring books, crayons, makers, crossword puzzles, paper, and other items for little ones can help make the visit with grandma or grandpa more comfortable and fun. It's also a good way to help little ones stay in one place so that you can enjoy the visit too. You can also try finding activity books with puzzles in them. That way, the activity can be enjoyed by both the children and their elderly grandparents.
An iPod Loaded with Some Favorite Music
An iPod is a great gift for the tech-savvy senior or just an elderly adult who loves music. You might consider a speaker dock to go with the iPod so that it's more convenient for listening. That way, friends within the assisted living community can enjoy the music with the senior.
A Photo Album or Scrapbook
Order a custom photo book from a photo website or have prints made of family and friends and put together your own scrapbook. You could highlight a memorable family gathering or pick your favorite photos from the previous year. If your elderly loved one likes to scrapbook, bring the supplies to the assisted living community and spend the afternoon making the book together. Photo albums are the perfect present for seniors with dementia or Alzheimer's since photographs allow seniors to reminisce and find comfort in recognizing familiar people they love and care about. Grandparents can then share those albums with the grandchildren when they visit.
A Trip to a Favorite Place
You may want to try some of these ideas for seniors who are more mobile. If the senior has a favorite place to visit, such as a concert, movie, coffee shop, library, or museum, take them out to enjoy that fun spot. Make plans to take your loved one to his or her favorite place a couple of times throughout the year. That promise can be part of the gift as well.
Electronic Photo Frames
Put your family's photos in a digital frame that you load and set up for the senior. This is another way to display photos for the person with dementia. You can offer to add or change the photos with major events of the year or plan to purchase another frame next year with a new set of pictures.
Gift Certificates for the Salon
Assisted living facilities often have a hair salon on site for older adults. Buy a gift certificate for your elderly loved one or purchase beauty products such as nail polish, brushes, combs, and similar items.
Help Paying the Bills
Consider giving some money to your loved one for extracurricular activities or some shopping. While not entirely personal, a gift card to a senior's favorite store is usually welcomed. Attaching a special greeting card with a gift card is a great way of communicating your care for them.
Calendars
Desk and wall calendars come in a wide variety of designs, prices, and sizes. Generally, calendars start at around $10. Purchase one at a store or customize one on a photo website so that those photos of children, grandchildren, friends, or scenes from a past vacation are convenient for your elderly loved one to look at year-round. There are even calendars designed specifically for helping older people with dementia remember important events and daily activities.
Cozy Bathrobes and Slippers
Older loved ones can get very cold in the winter, so a robe and slippers are always well-received. Keep safety in mind and look for non-skid soles on the slippers.
E-Readers
E-Readers are the perfect gift for elderly loved ones that love to read. The readers come in a variety of styles and weights while making it easy for an older adult to access his or her favorite books wherever they go. The user can enlarge the font size and/or change the font style to his/her liking. Load some of the senior's favorite books before wrapping the reader.
Fitness Tools
Light weights, stretch bands, and similar items can help seniors stay healthy and care for their overall well-being while having fun. Look for some online resources to obtain a list of easy-to-use exercises for older adults with arthritis or limited joint mobility.
Food Items
Make a homemade gift basket of the senior's favorite cookies, coffee, tea, candles, jams, crackers, cheeses, meats, or other snacks. A home-cooked meal is also a thoughtful gift. Make enough so that you can sit and enjoy the meal with your loved one. You might also consider preparing a larger gift basket or home-cooked dishes for the senior to share with friends in the community.
Wireless Headphones
Enhance TV viewing or everyday music listening with wireless headphones. Even special models are available for an older adult who is hearing impaired.
Other Gift Ideas…
All-occasion greeting cards and stamps
Adaptive clothing and non-slip socks
A reading lamp
A sign-in journal for visitors
Books, CDs, DVDs, or magazines
Craft items, such as patterns to use to crochet or knit, or yarn
Pens, tape, writing tablets, paperweights, and other desk-type supplies
Personal toiletry items, such as lip balm or lotion
Puzzles or puzzle games
Picture coffee mugs
Tote bags
Something to Consider…
While opening presents are always fun at any age, a highly suggested item is time as it is the most inexpensive gift for your elderly loved ones. Enjoying a meal with them or even having a simple conversation can be the perfect gift on its own.