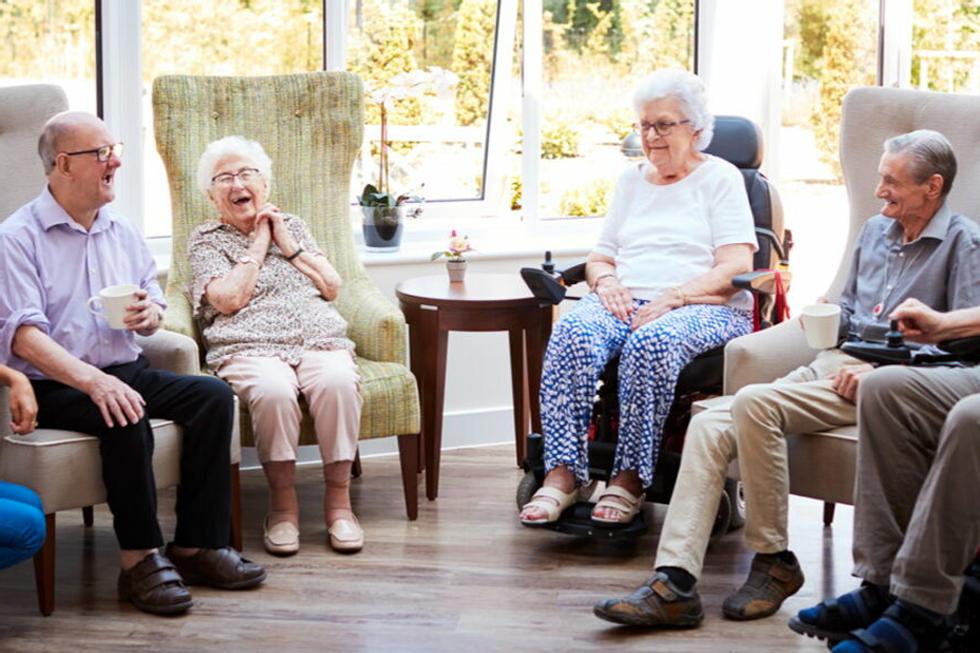 Myths About Assisted Living
---
Is a "retirement community" or "assisted living" the same as a "nursing home?" Learn the truth about assisted living and debunk some common senior living myths.
MYTH: "Assisted Living" is just another way to say "nursing home."
Truth: This is one of the most common misunderstandings about senior living, but in reality, the two differ significantly. Assisted living communities to provide housing and care to seniors who may need some help with daily tasks, but do not require the skilled care provided at a nursing home. They typically feature:
Individual apartments that residents can decorate and lock, just as they would a private apartment
24/7 staff to help with activities of daily living, including medication management and personal hygiene
Three meals a day
Transportation, housekeeping, and laundry services
Some assisted living communities offer additional medical and memory care services. This varies by state and community, and in some cases, can allow couples to live in the same community despite needing different levels of care.
Nursing homes are designed for people who need the highest level of care and require help with nearly all of their daily living tasks. These facilities typically feature:
Private or shared rooms
Rehabilitative care, including surgical and medical recovery
Assistance with many activities of daily living, such as feeding, toileting, and getting in and out of bed
MYTH: My mom or dad won't like living in assisted living.
Truth: A recent study reports that 73% of families thought their senior loved one's quality of life improved after moving to assisted living. Additionally, 60% of caregivers found that their personal quality of life improved. Many seniors fear losing their independence and privacy. It's helpful to know most communities provide residents with a choice of spacious apartments with different floor plans and separate entrances. People are free to furnish their apartments with their own furniture and personal items. As in private life, apartment doors lock and are controlled by residents.
MYTH: Family can, and should, care for their elders
Truth: While caregiving sometimes brings joy and strengthens relationships, it can also affect the caregiver's ability to work, engage in social interactions and relationships, and maintain good physical and mental health. Data from the Centers for Disease and Prevention (CDC) suggests caregivers often neglect their health needs and suffer from caregiving's emotional and physical demands. This, in turn, affects their ability to provide care. According to the CDC, more than a third of caregivers report insufficient sleep. Just as you expect a high quality of life for your parent or elderly loved one, you should expect the same for yourself. Choosing assisted living could result in a happier, healthier life for both of you.
MYTH: The cost of assisted living is too high.
Truth: Assisted living is often the same or less than receiving the same care and services at home. Currently, the median monthly cost for assisted living in the United States is $4,051.00. While that cost may seem high, it includes everything many seniors need such as meals, transportation, activities, help with day-to-day tasks, medication management, and more.
MYTH: The food is bland and the activities are boring.
Truth: Senior living communities are responding to people's preferences for fine dining and high-tech fun. With the Baby Boomer generation entering senior living, many assisted living communities are changing to reflect a more demanding consumer. As for meals, dining options look more like restaurants, and less like buffet lines.