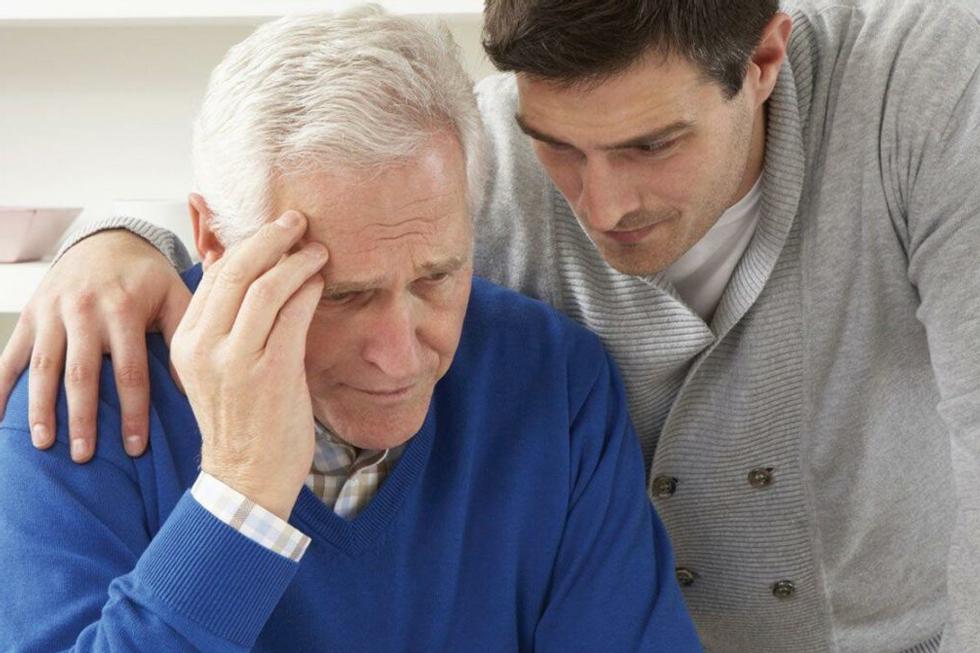 Dementia and Your Loved One: Are You in Denial?
---
It's normal to have difficulty accepting that your aging loved one may be experiencing early signs of dementia. Fear about the future is often described as "the underlying emotion of denial." It's human nature to reject what we find as unpleasant or frightening. But denying signs of aging and memory impairment can be dangerous to both caregivers and elderly loved ones. Understanding the dangers of denial to you and your aging family member can help keep everyone safe and connected through the difficulties of dementia.
Dangers of Denial for Dementia Caregivers
Missed Opportunities
Watching an aging family member struggle with dementia is painful; it can be like spending time with a stranger. A common reaction is to visit less often. It can be painful seeing what was a brilliant man being no longer able to hold a long, intelligent conversation and now has the communication skills of a young child. A person can easily miss out on creating special memories by being deep in denial and visiting a loved one less often. Dementia may change the ways you connect with your aging loved one, but it doesn't mean you can't spend quality time with them.
Legal Complications
When a senior is deemed mentally incompetent, they can no longer execute legal documents. Without a power of attorney (POA), advance directives, and financial decisions in place, handling a senior's medical treatment, long-term care, and end-of-life care is more complex. These decisions could fall to a family member who doesn't know or share the senior's best interests, rather than to the person of their choice. To eliminate legal complications from denial, suggest your aging relative create advance directives now.
Family Conflict
Denying cognitive decline can prevent you and your siblings from creating a successful dementia care plan. It can also irreparably damage family relationships. Denial on the part of a family member can cause family disputes. Adult children in denial don't help out, and those who are aware, often take on multiple burdens. Quite often, those in denial believe their siblings are overreacting. And after an emergency or accident, the siblings who have been caregivers may blame others for not helping before dementia became undeniable.
Financial Repercussions
Seniors are common targets for scams and financial fraud, and memory loss increases the likelihood of writing duplicate checks, overspending, or making other poor financial choices. Alternatively, dementia can cause seniors to ignore bills, fall behind on mortgage payments, and face legal consequences for nonpayment. While many parents don't want to share private financial information with their children, it's crucial to discuss financial plans ahead of time so your family doesn't fall under financial hardship.
Caregiver Health Consequences
Caregivers can put their own health at risk when they're in denial about the help they need caring for a loved one. In fact, family caregivers older than 66 have a 63% higher mortality rate than non-caregivers, according to a University of Pittsburgh study. It's not uncommon to see a couple that has been married for 40-60 years and if one of the spouses goes downhill, the other doesn't want the rest of the world to know. The caregiver gets sick, and a person with dementia doesn't have care.
If you're caring full-time for an aging relative, use the following guidelines to avoid caregiver burnout and health consequences.
Dementia Denial Dangers for Seniors
Falls and Accidents
Falls are the leading cause of both fatal and non-fatal injuries for people older than 60. Proper care and home modifications, such as installing night lights to reduce disorientation at night, can help keep seniors safe. But precautions may not be made in time if you're in denial about your parents' declining health. Dementia behaviors, like forgetting to turn off the oven or garbage disposal, can lead to serious kitchen accidents.
Medication and Poor Nutrition
Medication overdose is common in seniors with dementia. Even if you marked pill dispensers, your loved one could be in danger, since people with cognitive impairment often become unaware of the days of the week or the passage of time.
Accidental Harm to Others
Without family intervention, seniors unaware of their dementia may continue dangerous daily tasks like driving. Driving with Alzheimer's or another type of dementia endangers pedestrians and other vehicles and can cause significant property damage. In the home, a senior with dementia may become disoriented and injure a spouse or family member.
Elder Abuse
Unacknowledged dementia can leave seniors vulnerable to multiple types of elder abuse. An aging loved one may be susceptible to financial abuse, or they may be unable to report the details of physical or sexual abuse to the appropriate authorities. Dementia can also lead to elder abuse between spouses. A senior with advanced cognitive decline may experience significant behavioral changes that lead to violence. Alternatively, a caregiver unprepared to deal with dementia behaviors could resort to yelling or other emotional abuse.
Delaying Dementia Help
Often, a spouse is aware that their husband or wife has memory impairment, but they don't want anyone else to know about it, so they lovingly try to protect them from the outside world and begin to cut off family and friends. Sometimes in the beginning stages, a spouse can handle the needed care, but as it snowballs, it will become overwhelming. Caring for a loved one at home is physically, mentally, and emotionally draining. It also puts seniors with dementia at increased risk.
Overcoming denial and caring for someone with dementia
Coming to terms with dementia is difficult, but acknowledging what your loved one is going through can get them the right care and treatment for symptoms early on. Here are some tips to help you accept a dementia diagnosis and care for your aging family member.
Understand the signs and symptoms of dementia
Mild cognitive impairment can be easy to ignore if you don't know the warning signs. Understand the seven stages of dementia, which can progress over time often, early cognitive decline goes undetected.
Keep a journal
When you begin to suspect dementia, keep a journal (or digital document or iPhone note) about signs and symptoms. Tracking dementia symptoms makes it more difficult to minimize the situation. Write down thoughts and fears to help you process the situation.
Learn about dementia
The Internet is full of resources to gain knowledge about dementia. One very good source of information is the national Alzheimer's Association. (www.alz.org).
Seek support
Talk with friends, family, or a therapist. By finding others who've been through the same situation, you can learn from their experiences.
Ask for help
Remember that caregiver burnout is a real danger and can hinder your ability to care for a relative with dementia. Senior daycare, part-time home care, and respite options can provide a break from caregiving.
Professional dementia care helps family caregivers and seniors
Acceptance is the first step. After understanding the risks of denial and determining that your aging loved one may be suffering from dementia, discuss potential solutions. Many people think they can provide all the care themselves. But the truth is, that awareness, education, and medical knowledge are needed. If your loved one is diagnosed with a heart problem and needs surgery, you wouldn't take them home. Memory care needs to be approached in the same way.